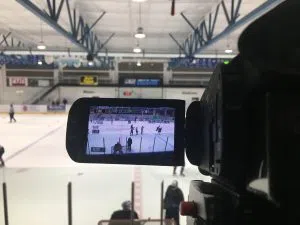 Technology has helped and improved many things over its years and the more advancement we see in it, the more we see how beneficial it truly is.
In sport, particularly hockey we see even more the importance of video coverage and review. Through the lens that 3rd year Video Coordinator Linton Grant controls on a daily basis, the team is able to revert back and take a look over things not just seen in practice but during a game setting as well.
"I do most of the filming and then I will do a little bit of pre-scouting as well. We recently changed to doing it (reviews) on the fly and what I code up here I then relay down to the bench and the coaches have an iPad on the bench that they can watch in real time."
Like most hockey clubs now the Cougars have their own facility where they watch over video of themselves or their opponents whether it has been in that game or previous ones and try to find the right strategy on how to approach it.
Before the video is ready to be reviewed, Grant takes whatever he has recorded and cuts it down into the important sectors of the game that the coaching staff feel needs to be talked about.
"I'll do live in game coding and tagging which is basically separating the game up into different aspects like specialty teams, goals and face-offs."
Grant believes that video is not only a great thing to have to get things correct in a game but also as learning lessons for players.
"Technology definitely improves the game even outside the realm of hockey. With tennis having the "Hawk-eye" or the "VAR" in soccer for the world cup it makes the referees job a little easier. Video is one of our greatest teaching tools that we have. I have personally sat in the stands and watched our assistant coach take the iPad and show our defencemen what he could have done differently. It is a good chance for them just to basically have a self-evaluation of how they thought they played in game."
With half a season to still be played, Linton will afterwards look to take his technological enhancements to the next stage where he has applied for some major programs in the NCAA.