Aboriginal Ancestry is a program designed to help students who are struggling to discover their ancestry by connecting them with a researcher who can help them further their results. First, you need to fill out any details you know of your ancestry in a chart such as the one listed below to the best of your knowledge, and then you can start from there. If there is enough information, then on average a basic search will take anywhere from two weeks to a month to finish.
Aboriginal Ancestry as a program has been going on for years in Z307 also known as the yellow room or the Global Citizen Centre on the second floor of Wyckham House. The program is put on by Cory Cardinal, the Cultural and Indigenous Inclusion Programmer with SAMRU as well as Robin Kirk who is a researcher of genealogy. This year, the program started in September and will run throughout the winter semester.
For Robin to discover her genealogy it took 15 years, to go all the way back to 1663 to uncover her full ancestry. It began when Kirk discovered her cousin in Edmonton was applying for the RCMP and if you could state you were indigenous they let you in. Although, the Metis Nation of Alberta denied her of her identity due to the way she looked which added one of many obstacles she would overcome to obtaining her full ancestry. However, according to Kirk, it's not all bad as "Things have changed a lot in the past ten years towards Metis identity.".
The process of researching your ancestry is "It's never simple." according to Kirk. The only way that Kirk would ultimately discover her ancestry is through her dying grandfather who mentioned his mother's name; which unlocked multiple generations of ancestry by researching. Karen tells me it all starts with a genealogy chart…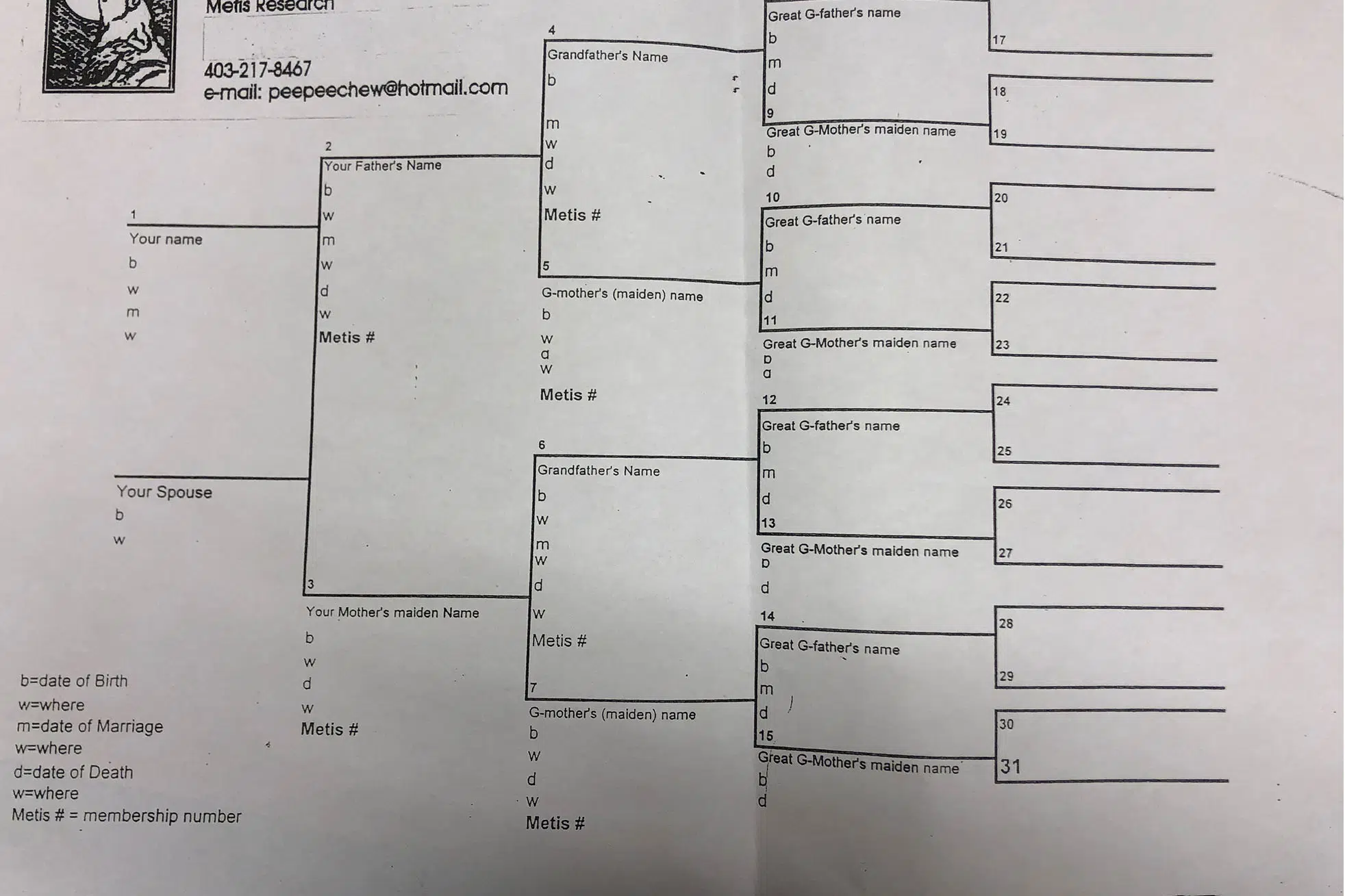 ( An example of a sample genealogy chart that you can fill out to get started)
A lot of first nations people don't even know they are first nations, they are often not wanting to share their identity, and are lonely with a spiritual hunger to discover their ancestry. The Aboriginal Ancestry program gives people an opportunity to further basic research by going beyond with an actual researcher. Sitting down and talking with Robin Kirk about first nations has taught me a lot about what I didn't before…
Aboriginal Ancestry runs every Wednesday from 10 am until 2 pm in Z307 with Robin Kirk. For more information, contact Cory Cardinal or visit SAMRU website.