It's become easy to get an artist's tablet and start selling art, but it's much harder to be respected as an artist if all you do is digital.
It's a common lament of digital artists, due to competitive pricing, abundance of artists, and easy access, people who do digital art commonly undersell their work, which has led to another issue. People have started to believe that that's what the art is really worth. Encountering an artist who prices fairly suddenly seems like a gross overestimate.
Artist Devon Bell (@werewolfprincev) has been making and selling digital art for years, and says this has always been the case in an interview. They say that it's uncommon to find someone who understands, and is willing to pay for the labour that art requires, who aren't artists themselves. Their commission prices, as a result, have to remain quite low in order for them to get business (see below)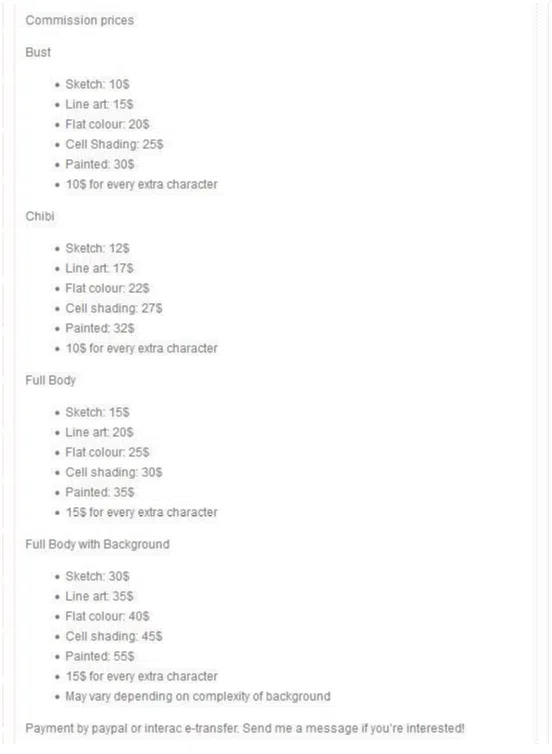 These prices seem reasonable, it's what you might pay at a department store, but that's for mass produced art, not a personalized piece delivered to your doorstep.
"There's kind of this idea that with digital art, it's the computer doing all of the work," Devon says, "As opposed to, this is a tool that I use to draw. It's still a canvas, I'm still drawing with my hand." In the interview they elaborate on how it's most often non-artists who hold that sentiment, and take it as some personal affront that the prices are so high.
"This is, in itself, a luxury item. If you cannot afford what the artist is asking, then you can look for someone whose prices are in your price range, or save up. Not consider it an attack on yourself."
The sentiment is in fact so common, many artists have made their grievances known through short comics. Including Devon themself.
All of this and the problem of art theft's depressing prevalence in the digital art community hasn't even been mentioned, it being quite the detriment to many young artists trying to sell their work, only to find it on sale at a retail store without their knowledge. Fortunately, Devon has not had to deal with this before, but it's all too rampant in an industry where most of the creators are young and exploitable.
"I'm hoping it will become more standardized," says Devon about the future of the business, "just people being able to, kind of stand their ground a little bit more." They want more protections for the newer and freelance artists who are commonly exploited, so the community can build and more artists can get what they deserve for their hard work.
See the rest of the interview here.