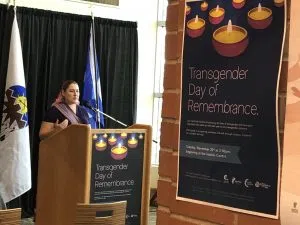 The Iniskim Centre at Mount Royal University hosted the Transgender Remembrance Day on campus this past week.
The members of the Iniskim Centre, along with the Student's Association Centre and Pride Centre, started their ceremony outside of the T-Wing on Tuesday afternoon. The ceremony progressed, as they walked to Wyckham House, with traditional First Nations drumming, in honor of the victims of anti-transgender violence. The walk was a show of support for the transgender community, following the prayers read among the circle.
The ceremony continued on to the second floor of the Wyckham house, where a speaker series was held, featuring members of both the First Nations and Transgender community. The Gallery space was used to support a memorial for the victims, but individual's names were not mentioned or released. Instead, this was a space used to commemorate personal grieving and to mourn for the victims of this violence.
The trans community flag will be flown at half-mast to respect and mourn for the victims of violence in this past year in Canada and worldwide.
The entire week will be devoted to remembering the victims of this violence, until November 25.
Vimeo link to video: