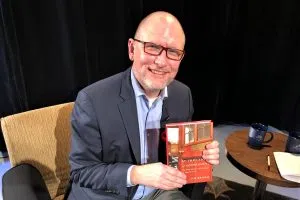 Ian Brodie talks about, politics, government, and Stephen Harper on this week's 'David Taras Talks To.'
Brodie was the executive director of the conservative party before Stephen Harper promoted him to chief of staff, and his book details the experiences with the party and the government.
Brodie talks in the show about how he admired and understood Harper. Brodie saw a passionate perfectionist, interested in perfecting his understanding and treatment of the things he cared about.
"Harper is a very serious man, and has the tough, lasting personality that helps you succeed in the world of politics," Brodie says.
It was under also as part of the party that he was able to accomplish his proudest achievement. Through his work in the party he was able to make elections competitive, something previously nonexistent in Canadian politics. The competitiveness is "a vital component to democracy" according to Brodie.
Brodie talks more in depth about his book, "At the Centre of Government." Purposefully written without the usual emotions of a memoir, he wrote it almost as a case study of the government while he was a part of it, taking the focus off himself and onto the systems at play. It offers insight not just to Harper's government, but the workings of Canadian parliament in general.
Hear more about Ian Brodie and his relationship with Harper on episode five of David Taras Talks To