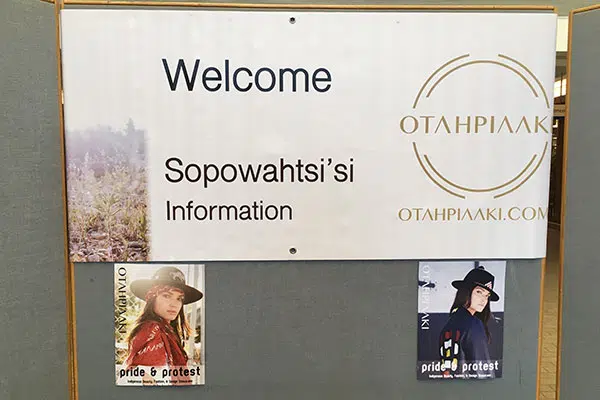 The third annual Otahpiaaki is hosting workshops and vendors on Main Street.
The third annual Otahpiaaki is underway this week at Mount Royal University called Otahpiaaki 2018: PRIDE & PROTEST.
Otahpiaaki was created in 2015 to honour Indigenous beauty, fashion, and design. It bloomed from the Truth and Reconciliation Commission's call to action No. 83; for Indigenous and non-Indigenous peoples to do creative project s together.
Patti Derbyshire is the co-founder of Otahpiaaki and says that the work of reconciliation is the work for neighbours, to be done by all.
"Our goal is to be in right relationship again and to help people move forward in Indigenous and non-Indigenous communities on having healthy relationships."
Derbyshire says that another goal of Otahpiaaki is to emphasize the differentiation of the 760+ Indigenous nations. "[Beauty, fashion, and design] is all informed by ancestors, by belief, by cultures and every single designer is different who comes."
Otahpiaaki 2018: PRIDE & PROTEST has grown to be a collection of workshops, presentations, panel discussions, and three separate fashion shows.
Sade Auger is a Cree jewelry designer being featured at Otahpiaaki 2018: PRIDE & PROTEST. Instead of beading, she uses crystals and stones based on her grandmother's work.
"It's just something that inherently connects me to my ancestors, I kind of come up with my own designs but at the same time there will always be a connection to something, spiritual or ancestors or family."
Auger says that she wants to come back to Otahpiaaki every year and that "it's an awesome opportunity for artists to get more recognition and to be able to share with the public."
Listen to Sade Auger's story of why she started Hawk Lace Jewelry.
Derbyshire says, "[Otahpiaaki] is a really gentle, honouring way through creative projects for us to start to build those relationships, to see one another, and for us to understand stories."
Derbyshire hopes that Otahpiaaki will be completely run by the community in the next few years.
Events for this week:
Otahpiaaki 2018: PRIDE & PROTEST wraps up the week with the final fashion show on Saturday. Tickets are available online.